Governor Ralph DLG. Torres announced on Wednesday morning (ChST) that the US Department of Agriculture's Food and Nutrition Service (FNS) and the CNMI have signed a memorandum of understanding (MOU) that will grant $30 million for the CNMI Nutrition Assistance Program (NAP) and will increase benefit amounts for NAP recipients, expand eligibility, and create a contingency reserve fund for the CNMI, effective November 1, 2021.
Governor Torres noted that CNMI residents can now seek nutrition assistance income eligibility levels that are equal to Guam, the 48 States, DC and the Virgin Islands.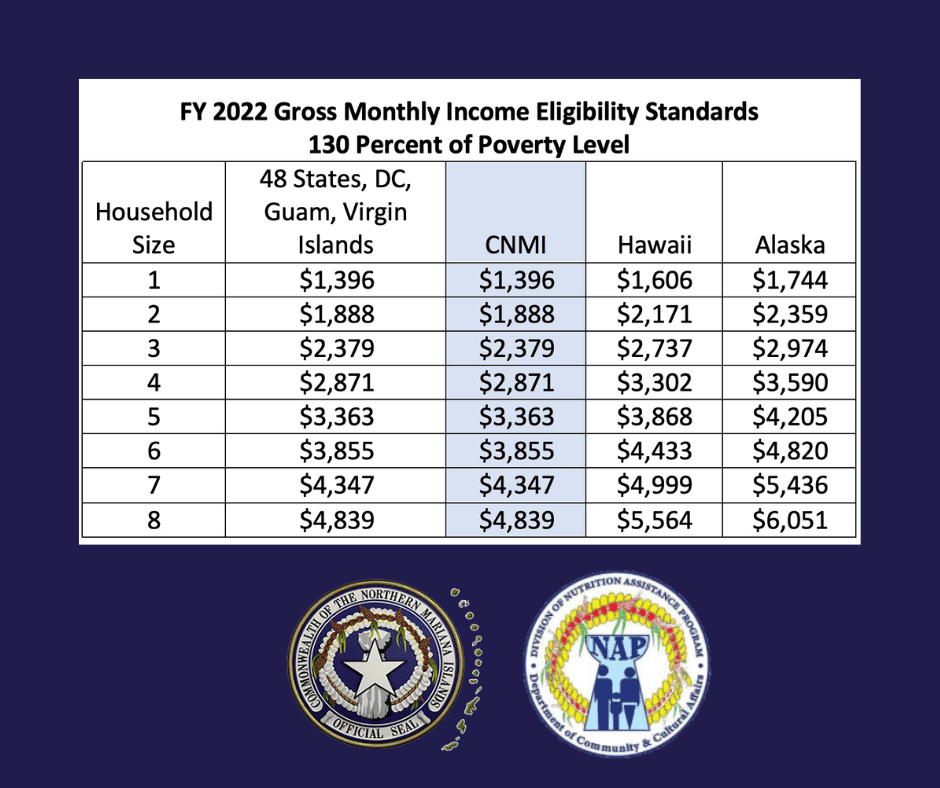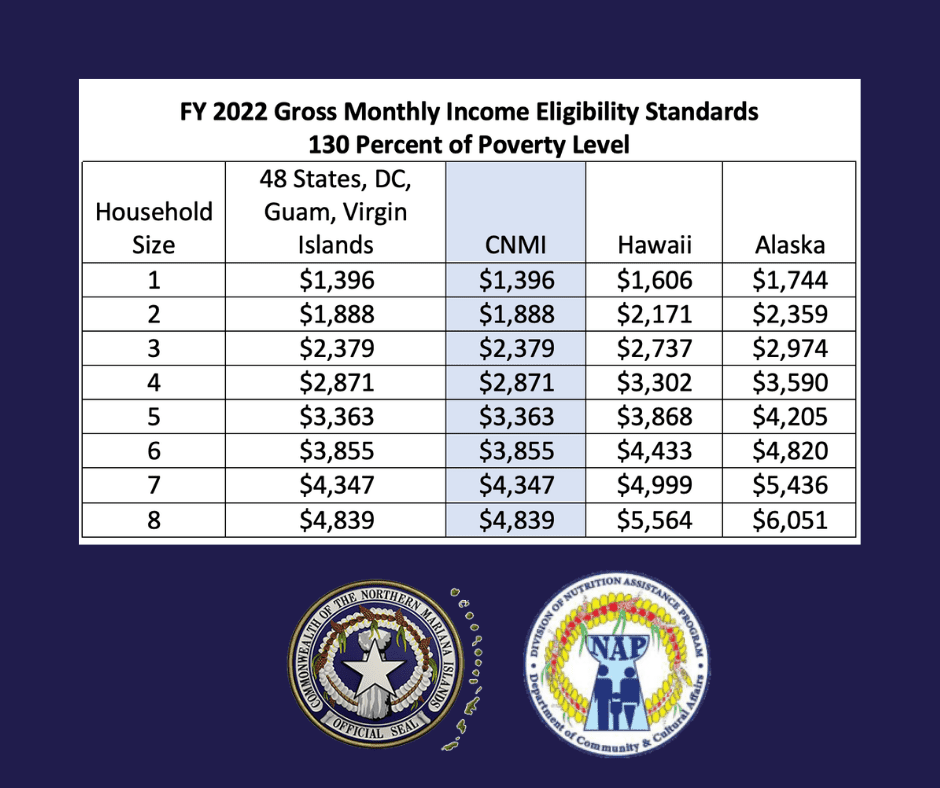 "I am pleased that our hard work to ensure low-income families in the CNMI have access to this critical food assistance have paid off. This is a major accomplishment for our people, and I am also pleased with the ongoing progress that will transition the NAP from coupon benefits to EBT benefits, which we expect to occur in early 2023. These developments are occurring because of the great collaboration between the CNMI and USDA's Food and Nutrition Service, and I want to personally thank FNS Administrator Cindy Long, FNS Western Regional Administrator Jesus Mendoza, CNMI Secretary of Community and Cultural Affairs Joseph Deleon Guerrero, CNMI Nutrition Assistance Program Administrator Walter Macaranas, and the great staff at NAP office," said Governor Torres.
With the additional funding under the MOU, the Torres administration plans to increase the Maximum Monthly Allotments in the NAP to equal those on Guam under the Supplemental Nutrition Assistance Program (SNAP). In addition, the administration has been approved to increase Income Eligibility Standards from 100% of the federal poverty level to 130% of poverty used in SNAP, and standardization of the certification period of all households, except those receiving Supplemental Security Income, to six months.
As an example, the income limit for household size of 4 was increased from a monthly gross income of $2,184 to $2,871 or $34,186 per annum. This will be implemented effective November 1, 2021, which is expected that more households would able to qualify under the new standards.
Secretary of Community and Cultural Affairs Joseph P. Deleon Guerrero said this is a milestone for the Administration, DCCA, NAP and the people of the CNMI.
"This is monumental, and it bring us, our CNMI residents, to the level of benefits that SNAP beneficiaries receives on Guam and the most of the SNAP States. We are grateful for the continued support of the Governor and collaboration with our FNS counterparts of further enhancing the CNMI NAP," said Secretary Deleon Guerrero.
NAP Administrator Walter Macaranas called this an exciting milestone for the CNMI with more developments occurring for the NAP office to benefit the CNMI.
"We have extensively and tirelessly been working with the FNS leadership and team to continue developing and enhancing the NAP program. We are currently working on the EBT project we plan to roll over in early 2023 or sooner. I want to thank all the NAP staff for their continued hard work providing assistance and service to our residents in needs," said Administrator Macaranas.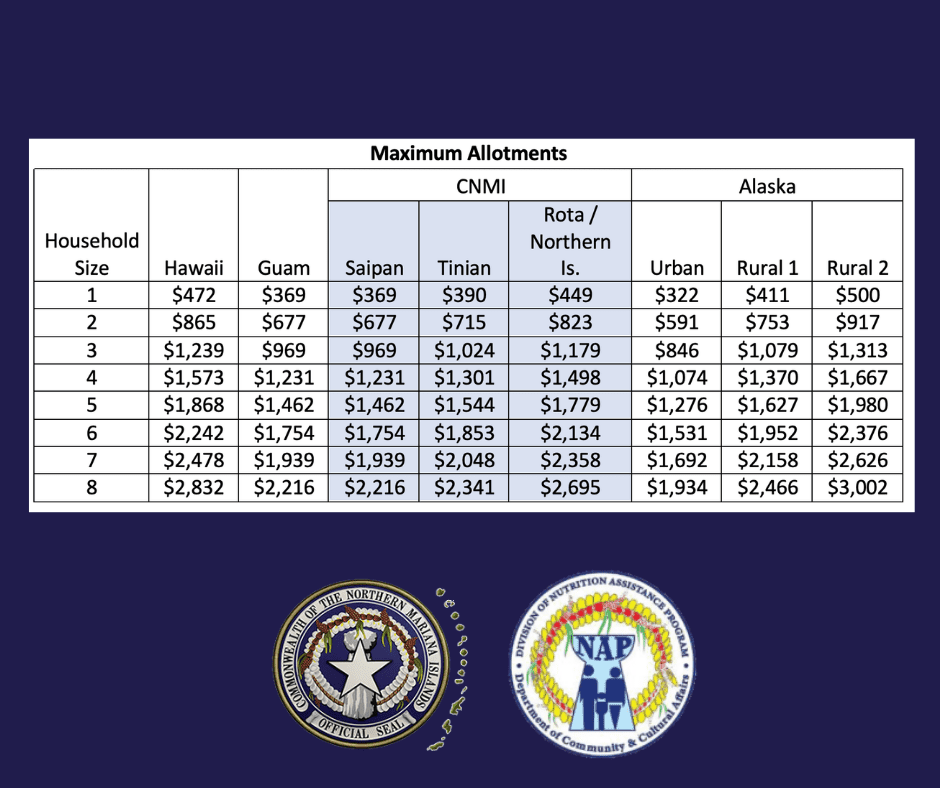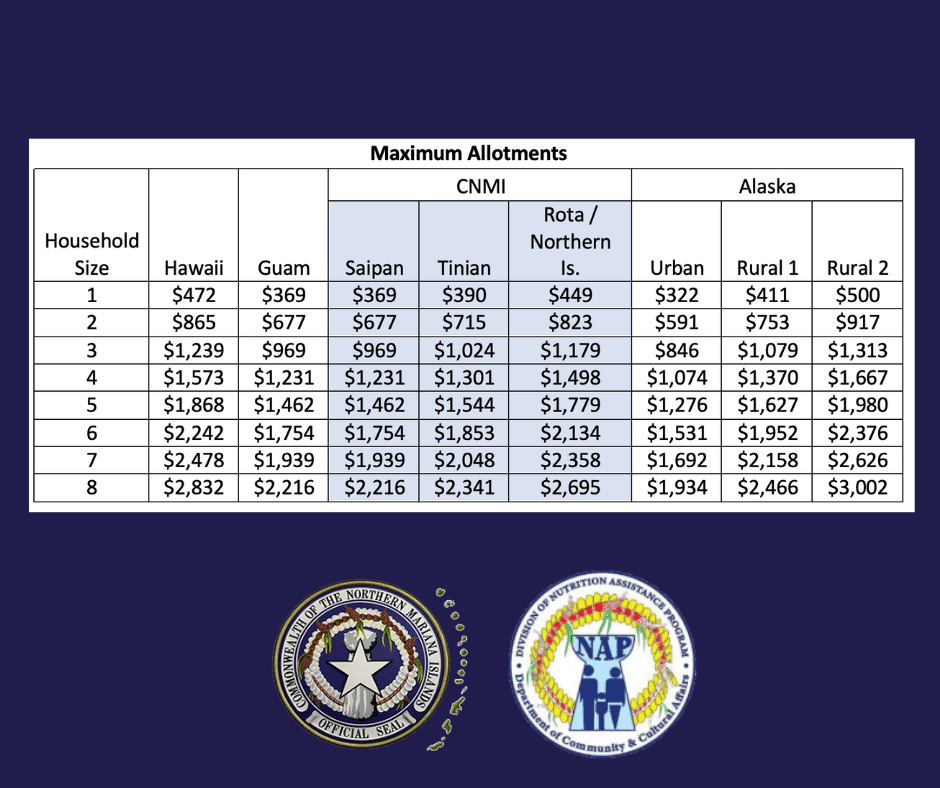 The maximum monthly allotment for a household size of 4 is $1,231 on Saipan as it is on Guam. Because of the higher costs of living on Tinian and Rota, CNMI was allowed to implement differential allotments, similar to how it is implemented in Alaska. This meant that maximum allotments for Tinian would be higher than Saipan due to the higher costs of living. Rota would certainly be higher than Tinian or Saipan because of the very high costs of living. As a comparison, maximum allotments on Tinian and Rota are essentially higher than maximum the allotments on Guam.
Households who are entitled to receive NAP benefits in November 2021 will see a slight increase in their benefits compared to amount they received in October.
The increase in nutrition assistance funding includes differential benefit allotment levels for Saipan, Tinian, Rota, and the Northern Islands. The MOU also includes funding for a contingency reserve fund that will ensure that CNMI can respond to unanticipated needs.
###